Despite Fears Of Stock Market Drop And Rising Unemployment, Americans Plan To Invest More In 2013
Chicago Booth/Kellogg School Financial Trust Index also points to sharply differing views between average Americans and top economists on key policy issues
Trust in banks fell to 28 percent in the December 2012 Financial Trust Index, down 5 percent since the September 2012 quarterly report.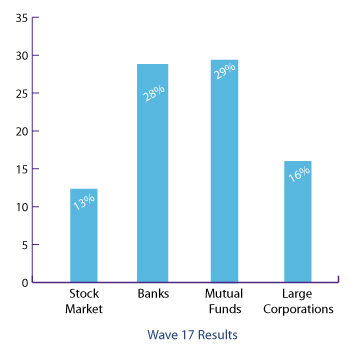 February 6, 2013 – The Chicago Booth/Kellogg School Financial Trust Index released today finds that more than half of Americans (58 percent) think it likely that the stock market will drop by more than 30 percent in the next 12 months, as compared to 48 percent in the September 2012 report issued before the presidential election. This fear of a large drop is centered primarily among Republicans.
"Approximately 67 percent of survey respondents who identified as Republicans think a big drop is likely, versus 50 percent in the last wave. This compares to 44 percent of Democrats," said Paola Sapienza, co-author of the Financial Trust Index and the Merrill Lynch Capital Markets Research professor of finance at the Kellogg School of Management at Northwestern University. "However, this pessimism did not translate to an intention to decrease investments in the stock market – all told, 76 percent of people surveyed said they will leave their investments unchanged in the next 12 months, and an additional 16 percent plan to increase their investments."
Twenty-two percent of Americans surveyed for the December 2012 report say they trust the country's financial system – down one percentage point since September 2012 – reflecting a decrease in trust of both the stock market and banks. Sapienza noted that while trust in banks overall is hovering at 28 percent, trust in local banks and credit unions is relatively high at 56 percent and 62 percent respectively.
Also, the number of people who believe they are likely to be unemployed within the next year rose a full 10 percent since last quarter, up to 22 percent.
The Chicago Booth/Kellogg School Financial Trust Index measures public opinion over three-month periods to track changes in attitude. This report is the 17th quarterly update and is based on a survey conducted in December 2012.