Financial Trust Index Marks One-Year Anniversary
Latest report shows banks still recovering trust while trust in stock market stabilizes
In the past year, Americans' trust in financial institutions has risen from 20 percent in Dec. 2008 to 23 percent in Dec. 2009.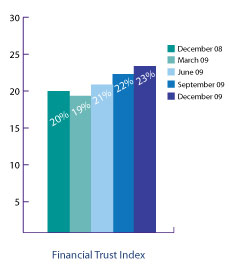 Wave V Results
Of those surveyed in December 2009, the greatest level of trust is for banks (33 percent), with the lowest for the stock market and large corporations (15).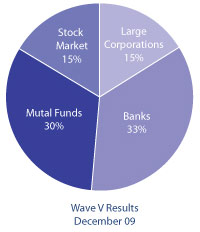 January 27, 2010 – 2009 was a year of notable developments, marked by a new administration, corporate and financial scandal, and strong attempts to revive the economy. The latest quarterly findings from the Chicago Booth/Kellogg School Financial Trust Index, issued today, highlight how trust has evolved in the last 12 months.
In the past year, trust in the financial system has risen since the height of the economic crisis, up to 23 percent in December 2009 from 20 percent in December 2008. In reviewing the various subsets that comprise the Index, a remarkable increase in trust toward "Main Street," with a more favorable view of local banks over national banks, is noted. Less fear in the stock market but a low willingness to invest more, as well as a shift away from support for government intervention in corporate America, are also key findings from the latest release of data.
The Chicago Booth/Kellogg School Financial Trust Index is a quarterly look at Americans' trust in the nation's financial system, measuring public opinion over three-month periods to track changes in attitude. Paola Sapienza (professor of finance at the Kellogg School of Management at Northwestern University) and Luigi Zingales (professor of entrepreneurship and finance at the University of Chicago Booth School of Business) published today's report as the fifth quarterly update since the inaugural findings were issued one year ago, analyzing data from more than 1,000 American households, randomly chosen and surveyed via phone during two weeks in late December 2009.